Here's Mike and Heather's story...
"With spring comes the itch to clean, organize and create. Being stuck at home for so many months during a pandemic definitely heightened this urge. We had been slowly working on our yard the summer before, then began project after project in our house. We kept hearing how the market was "nuts" and how quickly houses were selling, so of course our interest was piqued in how we could benefit during this upswing. Initially, we considered renting out our house and refinancing to get a second property. Travis was very patient with us as we looked at potential properties and got a sense of what was out there. His guidance at this time ultimately led to our decision to sell our house instead and we are so glad we listened, because it paid off incredibly. Since we had put so much love into our home recently we knew we could get a good price so it was now or never. We are keen on growing a portfolio of income properties and this seemed to be a great time to not only get our feet wet, but to dive right in!"
What were you looking for in a real estate agent and how many did you interview?
We were referred to Travis by a friend who was impressed by his professionalism and commitment. We wanted someone that had an understanding in rentals and was up to date on market trends and would give us honest feedback of potential properties we were looking at.
Why did you choose Travis?
Because he is our hometown expert! 😉He was honest, approachable and committed to helping us meet our goal.
What were you most nervous or concerned about?
Not getting the amount we felt our house was worth.
Having issues with selling.
Paying too much for a new place.
Not finding a place that met most of our criteria.
Having to be in a bidding war.
What surprised you about the process?
How much we learned about real estate overall.
Were you happy with the way your home was marketed?
We loved the photos! Travis gave great advice on staging and I know he posted on social media. We are very satisfied as we had no shortage of people coming to look.
What did you find most stressful?
It was stressful when we saw our property report come back. Travis was proactive about this. He seeked advise and provided us with a few options. Also, it was stressful when we had our original offer back out. Travis stayed optimistic and it payed off because our next offer was even better!
What was the best part of your selling and buying experience?
The best parts were the weekends our family would go to the cabin and grant Travis full permission to have as many showings as he could fit in. It was exciting everytime he would message with another showing. He rose to the occasion during this! We were so impressed by how many people were coming through our house.
Also, we enjoyed taking Travis to some crazy houses. Since we were looking to buy fixer uppers we ended up at some sketchy places and Travis went along with it. Thankfully, he was on the same page with us when the places were way too far off the mark and would give us this feedback!
"We are so thankful for the support"
What advice do you have for someone who is thinking of selling or buying a home?
Declutter and stage your house. It can mean a higher asking price. When buying a house, come up with your list of priorities, but be a bit flexible because as we looked we realized it is hard to find a house that has every single box checked.
Would you do anything differently?
No, everything was a learning opportunity and we are happy with what we ended up with!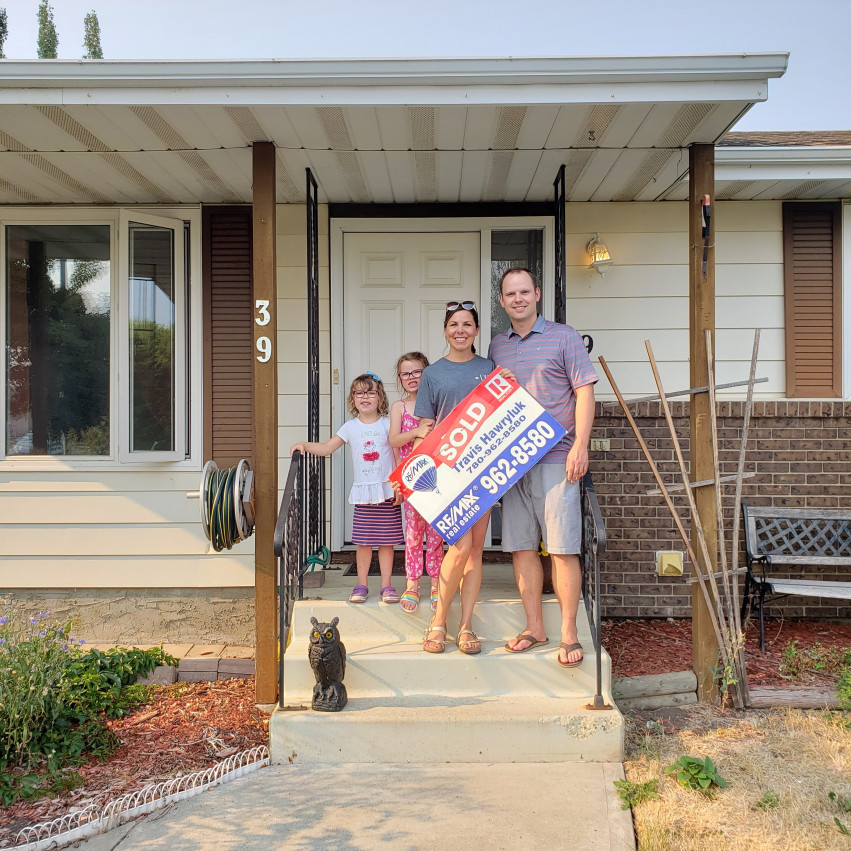 Would you hire Travis again?
Yes, and we will recommend him to friends!
It was an absolute pleasure to share this experience with you Mike and Heather.
We wish you and your family lots of happiness in your new home and success with your plan for the future!