Here's Kalee and Colin's story...
The time had come to consider selling when Kalee and Colin knew they had outgrown their house. Once they found somewhere that checked off most of the boxes in what they were looking for in their forever home, it was time to list!
What were you looking for in a real estate agent?
We had never used a real estate agent before, but we were looking for someone who was knowledgable, honest and availabile to be flexible with our work/family schedule.
Why did you choose Travis?
We chose Travis when we were given good advice on our rental property previously and we felt he was up to date on the current market/marketing. He was also recommended by a friend.
What were you most nervous or concerned about?
Initially it was finding the right home that checked off the boxes, later it was selling our home in an efficient manner once we had purchased our new home.
What surprised you about the process?
It surprised us how many houses you have to review and visit before finding the right one. There are a lot of misleading listings.
Were you happy with the way your home was marketed?
The professional photos and listing was done extremely well and we found it represented our house perfectly.
What did you find most stressful?
It was stressful when the first offer of the sale of our home didn't go through, but it was quickly relisted and a new offer was made within a few days. It was handled very efficiently and positively by Travis. He assured us we would only need a few showings to move our house and we went 2/2 for showings and offers.
What was the best part of your selling and buying experience?
The best part was that we were able to wait and buy and sell our home and that it all worked out the way we wanted it to in that we didn't have to settle on either the purchase or the sale.
How did Travis guide you through the buying/selling process?
Travis guided us in what to expect, explained the process of all the things that could happen and gave us options as to how to proceed with the listing timing, offers and conditions. We knew we were in good hands with great communication and staff to take care of the largest purchase in our life. He was right about everything and recommended great people to work with to complete the sale.
Would you do anything differently?
We would proceed again the exact same way as it all worked out 100% of how we wanted it to. We got the house we wanted and sold our house for more than we expected!
Would you hire Travis again?
We would never hire Travis again... kidding! We plan on hiring him again when we sell out rental property :)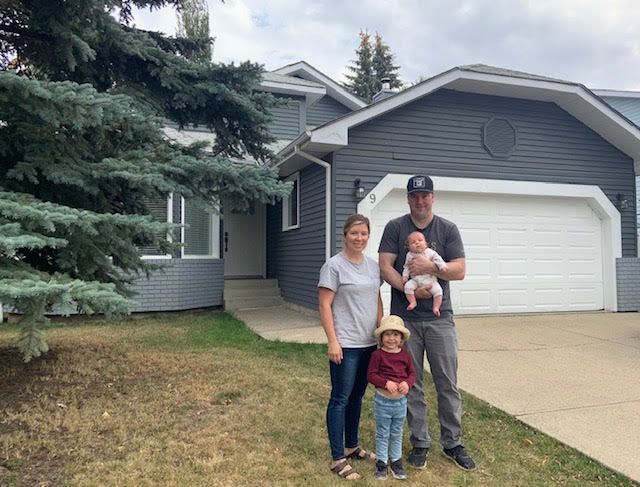 What advice do you have for someone who is thinking of selling or buying a home?
Our advise would be to go with your gut and don't settle on a house. Do what is best for you as it's a big life decision that shouldn't have to be made until you know it's right for your family. Do your research, be diligent on looking at homes and work with an agent who has the same thoughts and ideals.
It was an absolute pleasure to share this experience with you Kalee & Colin.
Wishing your family many happy years in your new home!