Perpetual Fitness in Spruce Grove
Interview with DeVaughn McEwan & Leslie Quilter, conducted by local REALTOR® Travis Hawryluk
Perpetual Fitness in Spruce Grove
Meet the Owners
DeVaughn McEwan & Leslie Quilter

Describe your business.
A locally owned and operated gym located in the Hillside Centre on Grove Drive & King Street. We focus on providing a comfortable and clean gym for everyone while staying active in the community.
What made you decide to open this business?
We both originally worked for the previous owners and loved it so much that we decided to take over! It took a lot of hoop jumping but we were determined to make it happen and continue providing the kind of service people had come to expect from our gym. We wanted to keep the community feel of the gym while adding new life to it.
What was it like when you first started?
It was a steep learning curve! Neither of us had much business background but had a passion for fitness so we wanted to make it happen. We were lucky to have a close relationship with Trent (Who continues to work with us) to help show us a few things along the way! We eventually got the hang of it and it took off for us from there!
What has surprised you most when owning a business?
How it's not actually as complicated or as daunting as it may seem. When you break it down, things become a lot simpler. Once you get the hang of it, everything sort of generates itself from there. The other things we both found was that there is always something new to learn, especially in our industry. It's constantly changing and you have to adapt on the go.
What would your customers say they love most about your business?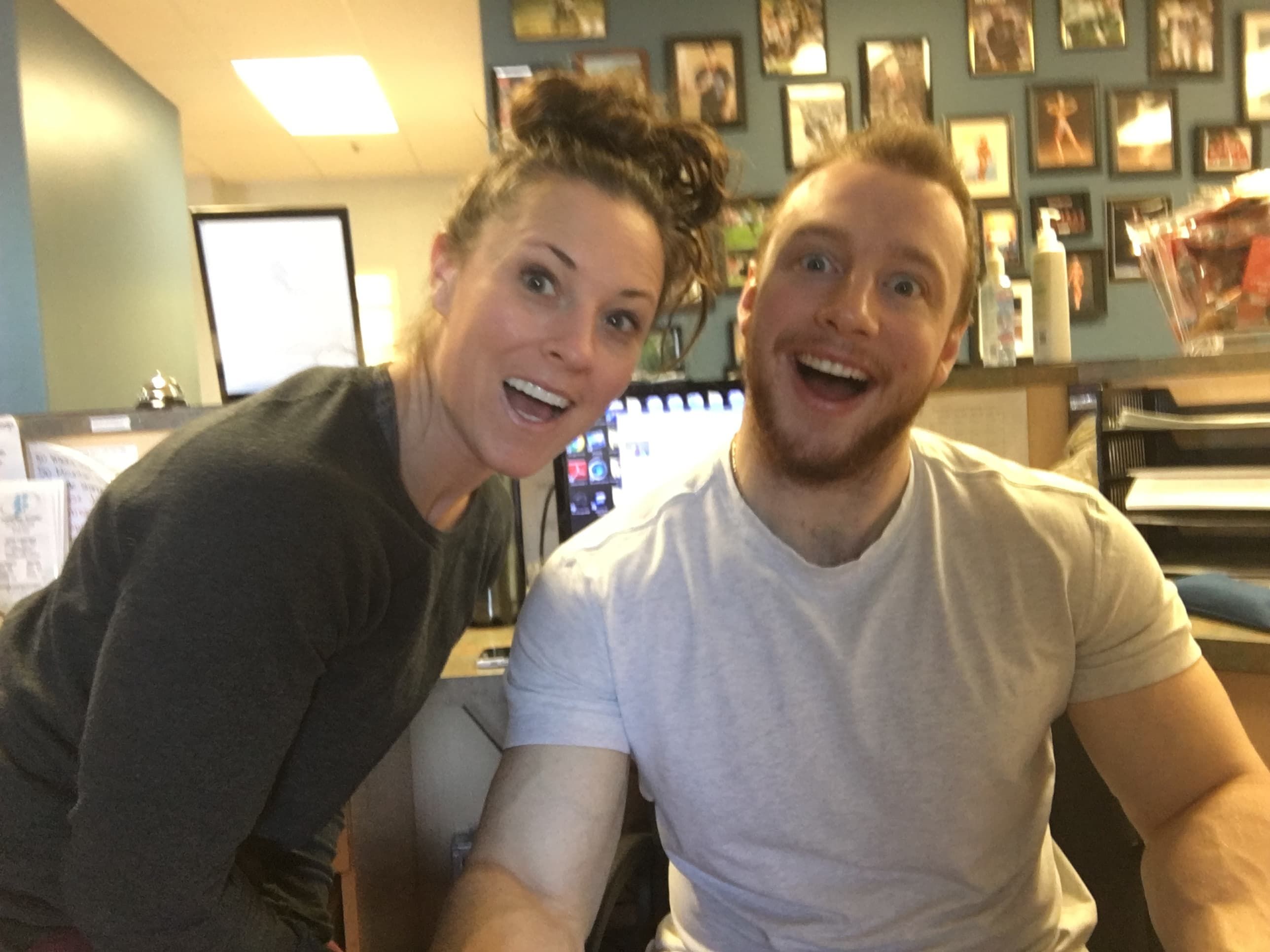 Our friendly staff, the positive atmosphere, and the cleanliness are the 3 things we hear most often. We are lucky to have a staff who takes this seriously enough to make sure things stay clean all while greeting customers when they come in and getting to know people better. Sometimes new staff will often start out shy but they learn to open up and often make lasting friendships with members in the gym.
What's the most memorable experience you've had working with a customer?
I'm not sure we could nail it down to just one memorable experience. We have so many amazing customers that have helped us just simply out of the goodness of their hearts very often. We've had help with different electrical issues, installing new fountains, new lights, etc. with so many customers. We could never thank those people enough! As a whole, I think we both would agree it is overwhelmingly amazing to see our customers step up when helping others. We've had the pleasure of doing many fundraisers that our customers have all pitched in and helped make successful. To date, our most memorable one was after the Fort McMurray fires. Within days, we were able to set up a donation fund, a charity boot camp, promoted it over Facebook that got shared over 100 times and in return raised over $3,000 with our customers help! During that time, we also gave free memberships to Fort McMurray citizens who had to be evacuated. Exercise can be a great stress-reliever and we felt that was one of the best ways we could help. The citizens of Fort McMurray were incredibly thankful and some still come back even now when they're visiting from out of town. We look forward to doing many more fundraisers in the future!
What is something most people don't know about the business?
Probably how rewarding it is! We meet so many people every day that often blow us away with the dedication they show and the progress they make! We love seeing our customers succeed in all different ways.
Who are some of your business idols and role models? And why?
We both really admire Trent Christie. He helped create a really great atmosphere at Perpetual Fitness and was a prime example for us to follow. We both learned a lot of things from him and are very thankful to have him around. We are happy to continue that positive atmosphere at Perpetual Fitness for all our customers. As well, we both admire Glen Pitt, owner of Teck Era. He's a very hard worker that has endless hours. A great example of a hard working business owner. He's also helped us both in many different ways and we are very thankful to him for that! Of course, we'd also include Travis Hawryluk. Travis has worked with us on many different ideas and taught us a few different ways to market ourselves. Dianne Pilla from the Spruce Grove Chamber of Commerce has also been amazing in helping us grow our business. She's given us lots of help to improve our business and put on many different events. Without these 4, Perpetual Fitness wouldn't be what it is today!
What do you like most about being an entrepreneur?
The flexibility would be a big part of it. Leslie can make a lot more time for her kids because she can often fit her hours around them. Again, we'd also both agree that it's incredibly rewarding! We love meeting new people and watching them grow both in and out of the gym!
Do you have any advice that you want to share with other entrepreneurs?
Hmmmm it can be challenging at first! We experience first-hand, the challenges a business will face, especially in the beginning stages. Extra expenses and such you may have either thought of, or knew of, come up left and right and it can make it seem like it's impossible to get ahead. Eventually, those slow down and it becomes a lot more manageable. Eventually it feels like you can do it with your eyes closed and one hand tied behind your back. We think as long as you put the work in and apply yourself to learn more about business and how to adapt and improve yours, you should have no trouble finding success in the business world. You'll be surprised with all the things you learn along the way that you never would have without owning a business!
What do you love about this neighbourhood?
It's around a lot of family oriented neighborhoods as well as many schools. We think it's important for EVERYONE to be active so to have it in a pretty central location, in regards to residential areas, we are happy to provide that for customers!
What are your favourite places to go in the neighbourhood?
Just down the road, right by Grant Fuhr Arena, there is Perks Coffeehouse which we love! It has lots of amazing things to choose from. We also are happy that Muscle Beach Fitness Shop has moved in to town! They have a good selection for us to choose from for supplements!
What are your favourite things to do in the neighbourhood?
By Perks Coffeehouse, there is the oval skating rink! We like to visit there as often as we can to go for a nice skate by all the amazing lights on the trees. In the summer it's great to visit Jubilee Park or go to one of the many events put on by the Chamber and/or City of Spruce Grove.
Why do you think it's important for people to shop local?
When we shop from each other, it creates a cohesive community. You support me, I support you, and we both receive the benefits. It's become somewhat forgotten that when you support someone who is a local business owner, you're supporting a member of YOUR community and not a CEO of some big company who could go on with or without your hard earned dollars. Every chance we get, we like to seek out local businesses to support!
Facebook: https://www.facebook.com/PerpetualFitness/
Twitter: https://PerpetualFit
Website/Blog: https://www.perpetualfitness.ca
Instagram: https://perpetualfitness